Healing Power Dreams – You've Had Them Too Right?
The first Buxton Deporter screenplay "Dreamriders" was started with a dream. It was a sci fi story about a young couple living in Studio City, California.
And other dreams became outlines for more sci fi stories.
A dream I had last night caused me to recall one I had about two years ago.  It started with me driving up a freeway which intersected a city. The freeway was bordered with much greenery, and all exits went to urban streets.
It was also bordered with parks and fountains and the freeway went up and down hills.
As I was driving I had an aerial perspective, looking for the right exit. Maybe I was viewing a google map or something. I was pretty anxious about getting the right exit.
And I got it, I thought. I turned into an underground parking lot and left my car. Then I got on a moving sidewalk and traveled underground until it stopped.
A tunnel led to a huge open space. It was a long ravine, with high red cliffs and a river snaking away.  Kind of like Sedona.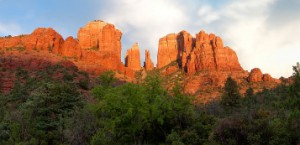 A large crowd had gathered and then an area that led into a cave, floored by the river, suddenly lit up. Tiered up the sides of the cave stood a choir, and they started singing medieval music, like Hildegard Von Bingen's.
She was an abbess in France and she was a musician. A local abbot was jealous of her abbey's choir and he condemned it to silence.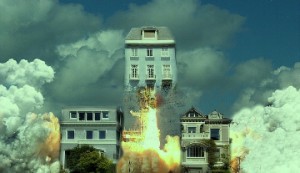 What a dick.
Anyway, after the music performance, I started floating over the river, fast, with the current. The river got smaller as the miles zipped by, and then dried up altogether.
Now in the sides of the red cliffs I saw lit windows, ten or more storiesof them. I saw people inside, living their lives. I sensed someone close to me was in there somewhere.
And I got a really bad feeling.
Evil was afoot here. I passed windows showing prisoners inside, being tortured. I couldn't do anything!
Then I got the idea that this nasty influence was going to take over my world. A force pushed me back down the river toward where I'd come from, the theater area.
And this insidious force followed me. I couldn't out run it.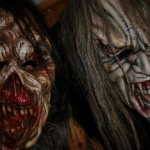 Here's a weird part. I'm not religious at all. But, in the dream, I remembered a time when someone told me (not in a dream) that whether you were Christian or not, the idea of Jesus, or the spirit of Jesus, would dissolve any negative energy.
The person who told me that isn't Christian, but his information worked! As I floated backwards I just kept projecting the idea "Jesus/God loves you!"
And the bad energy dissipated as I reached the terminal at the mouth of the city-end cave. I went back to the moving sidewalk and seemed to be on my way home…when I saw  my best friend standing there.
I told her "Don't go out there. It's beautiful but it's a trap". Then I woke up.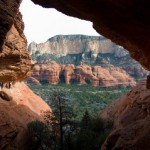 Well that's a lot! I'll keep last night's dream for the next post. It is related, because it ends up in the same red rock ravine, but starts from the other direction.
Who knows if this will be a series, or, one day, a book!
Have you had a dream or two or three where you show up in the same place? A place you've never seen or been? Yet feels familiar?
Pray, tell us about your dream! You can write it below.
Related: